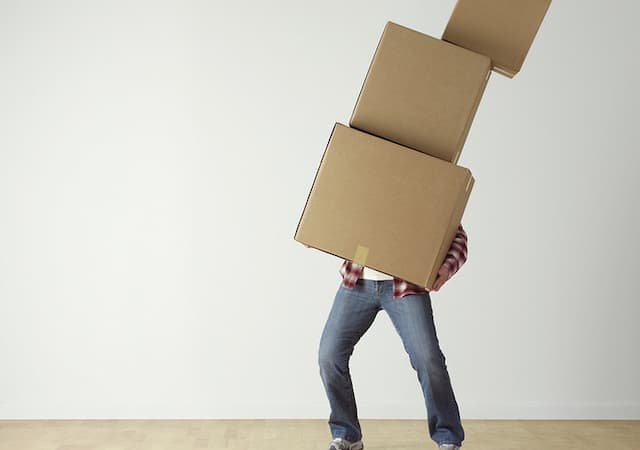 Enjoy moving? Did I just make a joke? You are saying (or maybe shouting) "There is nothing enjoyable about moving!" But it can be a more enjoyable experience than you think. With a little (or maybe a lot) of planning you can look at your move as something positive; a new beginning, moving up, or an adventure.
Starting early by planning the details of your move is crucial. During your move, there will be disruption in your routine, stress and things will happen beyond your control. But if you have a plan you have somewhere to start. A plan will decrease the stress and disruption and help you cope with unexpected happenings.
Here are 10 tips to make your move enjoyable.
Packing and Moving
Make an appointment with yourself to declutter. Don't move what you don't want. Review every nook and cranny, every drawer, closet and cabinet, and don't forget the garage and basement. If you need help, professional organizers (like us!) can help you get through this arduous task. We can make it more fun.
Write out each step of your move on a calendar, including packing days, finalizing necessary payments and paperwork, etc. We help clients pack their homes to move often, so consider using us to ease your burden. Well worth the money!
Stock up on supplies. Packing materials will come in handy as you are reviewing your belongings. If you have time, pack as you review, so you'll need packing boxes, packing tape, bubble wrap, packing paper, etc. Remember to label the boxes with the room of their destination. Unpacking will be so much easier if you don't have to carry boxes to different rooms once you arrive in your new place.
Schedule movers as soon as you know your move date. We love to work with ABLE Moving and Storage. They are highly professional and get the job done!
Don't forget the other family members. Remember your kids and pets are in on this move too and they probably don't understand what is happening as well as you do. Set aside downtime with them to just chill in the middle of the chaos.
Be prepared for the final push. The final push starts a day or two before the movers show up. Pack a bag with all your essentials; clothes, electronics, toilet paper, critical paperwork and medication. Start eating simply or out, so everything can be packed clean and nothing is forgotten in the dishwasher. Do laundry. Get enough sleep. Easier said than done – I know.
Say goodbye to neighbors and collect or return anything that has been borrowed.
Unpacking and Organizing
Prepare your new home before movers arrive. If possible, labeling each room with the name you wrote on the boxes will help the movers work more quickly and make fewer destination mistakes. Decide where the big pieces of furniture will be located in each room. Note their placement with sticky notes "like tall dresser" on the wall, so the movers can place them without extra direction from you on moving day.
Create a home, don't just unpack. Think about how you want to use your new space and find homes for your things that support your ideas.
Lastly, if you overwhelmed, reach out for help as soon as possible. Moving is a big deal, but it can be simplified and even enjoyable.
Need a little more inspiration?
Check out these links:
Why Moving is the Best Opportunity to Declutter Your Home from Spare Foot
Martha Stewart's Moving Checklist
How to Organize Your Move from a Bowl Full of Lemons
10 Charts That Are Way Too Real For Anyone Who's Moving This Year from BuzzFeed
Are You Ready to Move-N-Order? from Basic Organization
100+ Moving Tips and Tricks from UPLine