Organizing Services for Your Entire Home
It's not easy to lead a busy lifestyle and to stay organized at the same time. In fact, many people decide they cannot go it alone and end up hiring a professional team for organizing services.  Things can pile up as we come and go from our daily routines at work, school and at home. Practically every room from the kitchen and living room, to common areas, bedrooms, the attic, basement and garage will be affected at some point.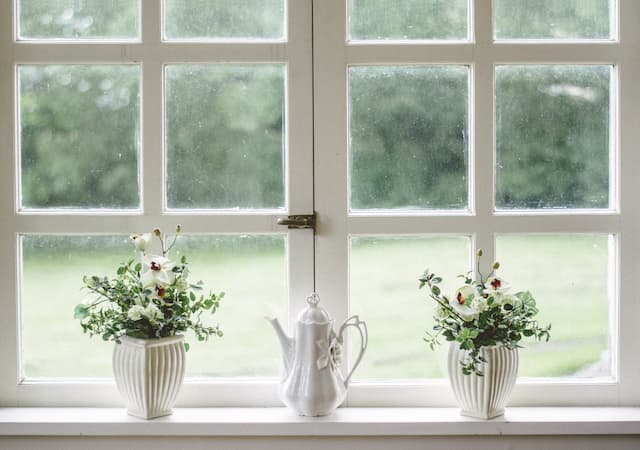 If and when you need to organize your home, use these pro tips, ideas and suggestions for getting (and staying) organized from the professional home and office organizers in Fairfax at Basic Organization. The key is to make sorting, organizing and "being neat" part of your modus operandi--a particular way or method of doing something, especially one that is characteristic or well-established.
Have you ever been digging in your kitchen cabinets and thought to yourself "I know it's in here somewhere?" Do you sometimes feel like an explorer, on your knees with a flashlight, trying to locate a long-lost item? A little organization can end these scavenger hunts in your kitchen. Here are 10 tips to get started.
How to Organize Your Kitchen and Pantry
Make a plan. Focus on how your kitchen functions. Set prime space for the items you use every day and move the occasionally used things farther away.
Start with the most visible area. Begin with the countertops. Work one area at a time, before moving on. This will help alleviate that feeling of being overwhelmed
Focus on the items you love and use. This will make organizing a positive experience. It will be easier to let go of things if you know what you are keeping because you love it.
Divide your drawers. Instead of a jumble of utensils inside the space, use drawer dividers to make homes for like items. This will make it easier to find what you are looking for.
Designate an official drop zone. Assign a space that is away from the cooking area in the kitchen to avoid having to move or work around items like keys, cell phones, purse and mail.
Create storage. Contain odd kitchen items. Collections of cookie cutters, cocktail napkins, whatever you have – contain these items together and create a home for them.
Add extra shelves to your pantry. Often wasted space between pantry shelves can be used by adding an extra shelf or stacking boxes. Every little bit helps.
Add task lighting. Install lights under your kitchen cabinets for task lighting. You don't have to hire an electrician. You can buy battery-powered lights that stick underneath kitchen cabinets.
Designate a junk drawer. Not all drawers should store junk. Assign like items to certain drawers (and cabinets). If you are lucky enough to have an extra drawer, let it be the junk drawer, but cull it often.
Make organizing part of your routine. Just a few minutes each day (say after the dishes are done) of reorganizing the kitchen will keep the space an efficient and effective work and family space.
Making Space for Kitchen Essentials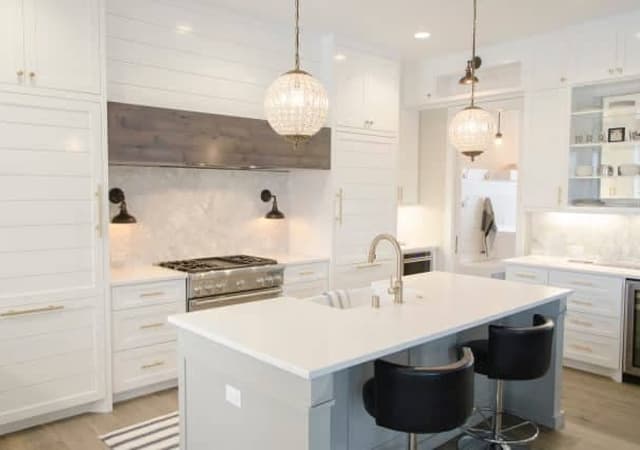 How to Organize a Kitchen Counter
If you struggle for space on your kitchen countertops, take a moment to look at what's in your way. Your kitchen counter is "prime real estate".  Don't waste it on unnecessary, seldom-used appliances. It's time to do it yourself or hire a home organizing service to reorganize your kitchen.
Start by clearing off your dining room table or set up a folding table near your kitchen. Move everything on your counters to this extra space. As you need an appliance, grab it and place it in the most useful spot in your kitchen. You needed this appliance, so it earned a space in your kitchen. Do this for one week, two weeks, maybe a month. But, when you feel as though your kitchen is adequately supplied you are done. You have the equipment you use most. Find homes (off-site) for the seldom used appliances. Maybe in a cabinet or in your basement storage or laundry room or maybe just get rid of them.
Organize Your Kitchen to Save Time
Food prep can take a long time – a big chunk out of your day. No wonder we are so inclined to go out for dinner, instead of staying home. By working more efficiently you will save small amounts of time. But those minutes really add up when combined to achieve your goal of sitting down to a family dinner.
Organizing Tips to Save Time in the Kitchen
Double the amount you cook and freeze half of it to make a second meal.
Cook dinners in a crockpot so the vegetables and meat cook while you're at work.
Plan meals a week ahead of time and includes the necessary items on your shopping list.
Use foil whenever possible to speed up cleaning afterwards.
If you use plastic containers for leftovers, consider having only one size to eliminate having to match tops with bottoms.
Arrange all the tools and ingredients on the counter before beginning to cook to save time on meal prep.
Use transparent containers for leftovers so you can see what you have in the refrigerator.
Keep similar types of foods in certain areas, so it's easy to locate everything.
How to Organize Bedrooms and Closets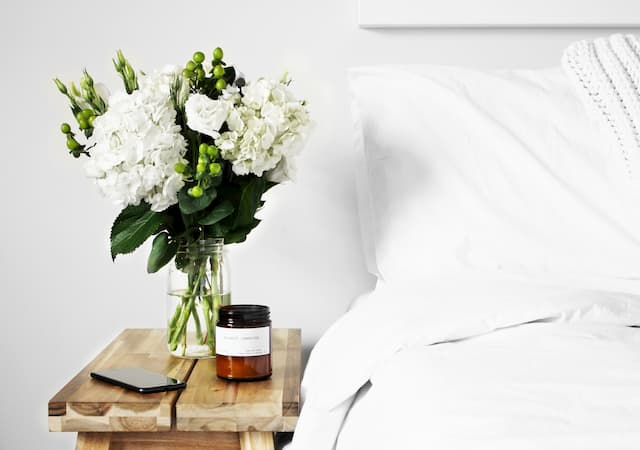 As professional home organizers in Northern Virginia, we witness firsthand how closet space is something we never seem to have enough of. We can fill our closets to the brim very quickly, and then they become a black hole where items disappear, never to be found again. But organizing your closet can make a big difference in simplifying your life. When organizing a closet keep in mind that the intended use of the space is storing clothes, nothing else. So take this time to clear out all the stuff that doesn't belong in the space.
The next task is to sort what is left into neat piles of similar items. As an example, gather all your pants, all your shirts, all your jackets, etc. Now you can see what you really have. Do you really need 10 pairs of black pants? Now is the time to be honest with yourself. If you love it, keep it. If it doesn't fit, is worn out, or is out of style, get rid of it.
The next move is to take a step back and look at what you have. Evaluate if the space you have is adequate for what you want to store. Storage systems such as a closet organizer, shoe racks, shelves, or bins may be needed to make the best use of the space.
When that task is accomplished, it is time to put everything into its new home. Storing all items of the same kind together will make it easier to find things in the future. Mission accomplished! Now enjoy your success as you dress with ease tomorrow morning.
Tips for "Organizing" a Closet
Sort like items together
Purge unwanted items
Assign a home for each type of item
Contain with products if needed
Maintain the space with the do it now principle
Steps for "Keeping" a Closet Organized
Don't purchase organizing products before you have sorted, purged and assigned.
Don't store anything in your closet that is not clothing or accessories.
Think of the closet as three separate spaces: shelves, hanging space and floor.
Turn hangers around in the Spring and Fall to see what you wear.
Use all similar types of hangers. Never wire hangers.
Store empty hangers together, Not mixed in with clothes.
Use the One-In/One-Out Rule: for every item you bring into the closet, take one out.
Remember the 80/20 Rule. 80% of your clothing, you use 20% of the time.
Do It Now Principle: If it will take less than 2 minutes to do, don't put it off.
Keep only what fits, is useful, in style, needs no repairs and you love.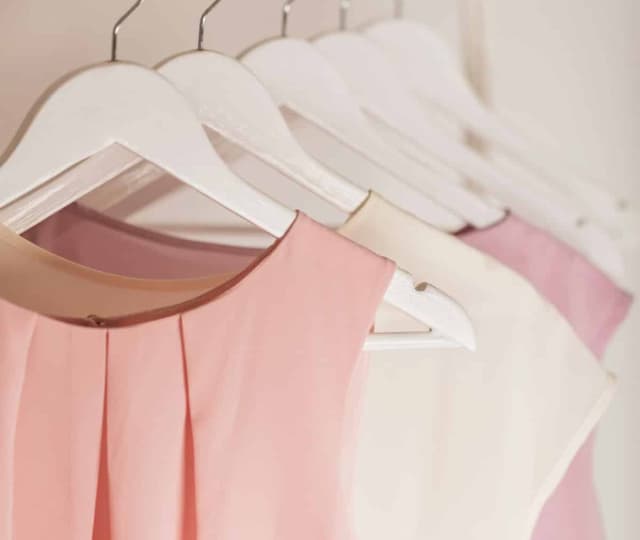 5 Easy Steps to an Organized Closet
An organized closet is not a work of art. It just needs to work for you. While there are several ways to organize a closet, do whatever works for you. Home organizing services usually start by putting all of the same types of items together, so you can make outfits each day, which is one way of organizing your space. Storing everything as outfits, so it's all ready for you each morning, can be a great option if you don't want to have to think about it each morning. The key to organizing a closet is to do what works for you.
Edit, edit, edit! Identify what you don't wear. Force yourself to eliminate anything you have not worn in the last year. You will free up some much-needed space.
Make Repairs. Pull out anything that needs repair, cleaning or tailoring. Deliver them to the cleaners and tailor and you'll have "like new" pieces in no time.
No Wire Hanger. Invest in something better – anything! You are worth it. Having all the same hangers will maximize closet space.
Hook it Up. Add hooks to the closet door. They keep things off the floor, clean and insight so you will use these items more.
Maintain Order. You can keep your closet organized in 5 minutes spurts. Concentrate on one area at a time. Refold your sweaters or pick up anything that has landed on the floor. 5 minutes here and there will keep your closet organized.
3 Steps for Organizing a Closet in 5 Minutes
What can you do in 5 minutes? A lot. Organizing a closet doesn't take much time. It's the decluttering part that takes time. So if you are overwhelmed with the idea of completing a closet project, start with the organizing and use that motivation you gain to do the decluttering on the next go-around.
Gather all the empty hangers. You know the ones that are mixed in with the hanging clothes. You won't believe this. It makes a huge difference to move the empties to the end of the rod or to a basket on the floor or shelf. Try it, you'll see! More organized already.
Get rid of all the dry cleaning bags. Are you thinking that using these keeps your 'fancy' clothes clean? They also keep the drycleaning chemicals trapped in your clothes and that does them no favors. If you must keep some bags on your nice clothes, then let them air-out when you bring them home from the dry cleaner and then rewrap them and store them at the end of the closet rod, so they are out of your way.
Put like-items with like-items. It's that organizing principle to gather things into groups. If you do this now, you'll be shocked at what a difference it will make. Hang all your pants together, all your long-sleeved shirts together, all your short-sleeved shirts together. TOGETHER – BLISS!
A more organized closet! And quick! I bet it didn't take more than 5 (or 10) minutes. Let us warn you, it will take an extra moment each time when you are putting away laundry to maintain what you've done here. But it is so worth it to have an organized closet every time you open the door. Still need help? Consider hiring a professional organizing service like Basic Organization in Fairfax to have your home decluttered and organized.
Organizing Services for Basements and Garages - Q&A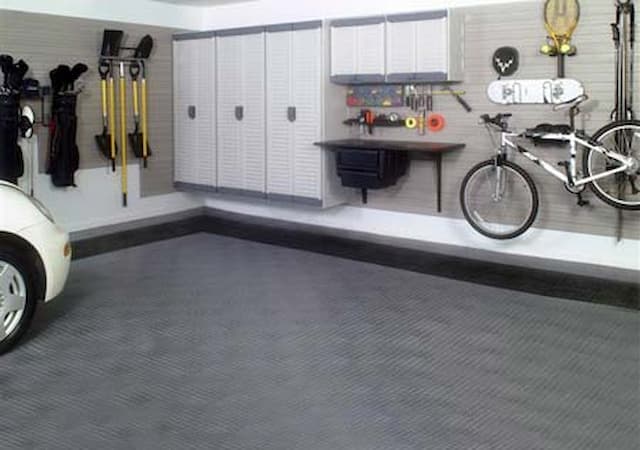 Over the years, Basic Organization has provided professional home organizing services for homeowners in Arlington, Alexandra, Fairfax, Reston, Herndon, Chantilly and surrounding communities in Greater Washington DC. Due to her experience as a NAPO-DC certified organizer and the founder of Basic Organization, Janet Schiesl, was recently asked by the website Angi questions about organizing garages and basements in Northern Virginia.
1. Do you get many requests to organize garages?
Yes. We organize any storage areas of a home, including closets, pantries, file cabinets, basements and garages. Garages and basements are prime territory for long-term storage. Organized storage spaces can greatly affect how you use the living spaces in your house. By having an organized space for your long-term storage items you can eliminate the clutter from collecting in the rest of your home.
2. What are the benefits of having a clean, organized garage?
Any organized space will offer you the benefit of time savings because when everything has a home it is easier and faster to put things away and therefore easier and faster to find things when you need them again. Also, an organized space can save you money, by not purchasing something you already own but can't find.
The biggest benefit to organizing a garage is that you will be able to store your car inside. It's probably your second largest purchase, next to your house. A good exercise is to examine the contents of your cluttered garage, evaluate the value of what you are storing in the space. Ask yourself if it is more valuable than your car.
We always look vertical for more storage space by adding shelving around the perimeter of a garage. We usually suggest plastic shelving, that won't rust or warp in the outdoor environment. Shelves are ideal for storing smaller collections of gardening equipment or car supplies.
Hanging items on the wall or from the ceiling in a garage is also a great way to take advantage of the vertical space. There are many storage tools on the market that accommodate anything from sports equipment to yard tools. We suggest a variety of items that will fit an individual clients needs. We are an unusual professional organizing company, in that we have a team of organizers and a handy-man on staff, so the job can get done with a coordinated team, in one day.
On every job, we support our clients in reusing and recycling anything that they no longer need. We assist them in posting things on the internet for sale or setting up a donation pick-up. Your trash is usually someone else's treasure.
3. What is the most common request you get from customers who hire you to organize their garage?
A client's main reason for organizing their garage is to finally park their car inside. I applaud this effort and it can usually be done. Garages seem to collect long forgotten items and after living out in the elements the stuff is no longer worth saving. Sometimes time makes it easier for clients to let go of their long-held-on-to possessions as well.
We have also been asked to create space for a workout area, woodworking shop and long-term storage in client's garages.
4. What is the average cost of a garage organization job (a range would work)?
There are two factors in estimating how long any organizing job will take. They are how much stuff the client has and how quickly they make decisions. With an organizing team, you can accomplish a garage organizing project in one day! The cost varies with these factors, but a one-car garage would cost from $500 to $1000 and a two-car garage project would run $1000 to $2000. Well worth the price to park your 20, 30 or 40 thousand dollar car inside!
Organizing Craft and Toy Rooms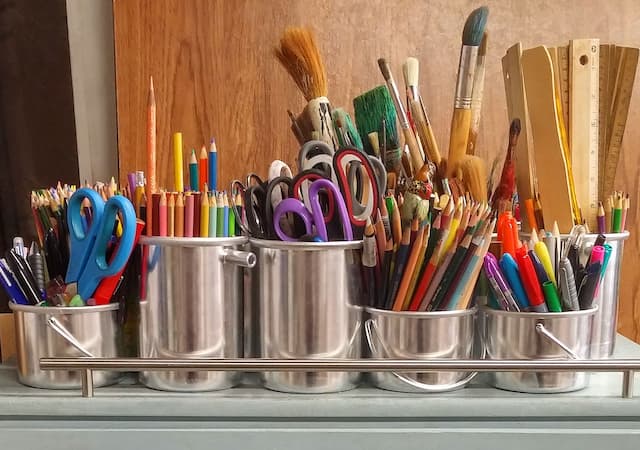 From Junk to Craft Room in One Day. When you don't define a space it becomes a junk room. We all do it. When a space (a drawer, a shelf or a room) has no purpose it starts to collect junk – all that stuff that you don't know where to put, goes in there. For example, a couple chose to use a bedroom in their home as a craft room.
While they had made multiple attempts over 10 years to convert this spare bedroom from a storage area to a craft room, they were not really successful because they ended up with a different configuration of the same mess. That is when Stacia from Basic Organization stepped in to help. Stacia developed an approach that was helpful to client because she "asked the  right questions. This made it easier to decide between keeping, donating, or throwing away particular items. She wasn't judgmental about any of those decisions. She had excellent guidance for how and where to store sets of items. She kept us focused."
Now finished, they "have a neatly organized room that functions well for its designated purpose, and the organizational tools and skills to keep it that way."
We are a team of professional home organizers in Washington DC.  We help homeowners, busy professionals, seniors and families declutter, sort and organize their homes and offices.  Our passion is helping people achieve peace and simplicity in their lives by organizing their living space, daily routines and overall lifestyle.  If you need help regaining control of your environment, contact Basic Organization to have us organize your kitchen, living rooms, office or study, bedrooms, closets, basement, garage and attic.
"Our passion is helping you achieve peace and simplicity in your life," -Janet Schiesl
Ready to find out more?
Schedule a free in-home discovery call!