Scheduling Your Holiday Cards
Scheduling your holiday cards.
Tis the season for rushing, not finishing projects on time, or barely getting them in under the wire. Do you do this with holiday cards? Probably since you don't really like doing them, procrastinating until what you deem the last-minute and then sit up late one night addressing and signing and stamping.
There are 6 weeks until Christmas, so we better get moving. Click To Tweet
Maybe this year you'll schedule your card project early. Here's a quick guide to help you (and me).
Six weeks before: Update your address book and purchase stamps.
One month before: Sign and write notes and address envelopes.
Three weeks before: Mail cards now and they will arrive on time.
Is this doable? Maybe not. Consider scaling down your mailing list or just sending an email. It would be more environmentally friendly. Not personal enough? Pick your most loved ones and give them the gift of your time with a phone call and get together with them.
Sounds like to could work. But, there are 6 weeks until Christmas, so we better get moving.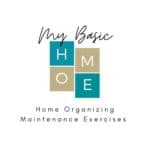 Are you afraid to start an organizing project just to be overwhelmed or lose motivation in the middle, to be left with even more chaos? You are not alone. That's the fear of most people who don't have time to allot to a big organizing project.
The new My Basic HOME, your Home Organizing Maintenance Exercise subscription service.
Your guide to better-organized spaces and the accountability to maintain it, delivered as a text message JUST FOR YOU! Get a message each weekday to prompt you into action. Get the support you need with expert advice from the Basic Organization team and other subscribers in a private Facebook group.