Is your freezer suffering from Popsicle season?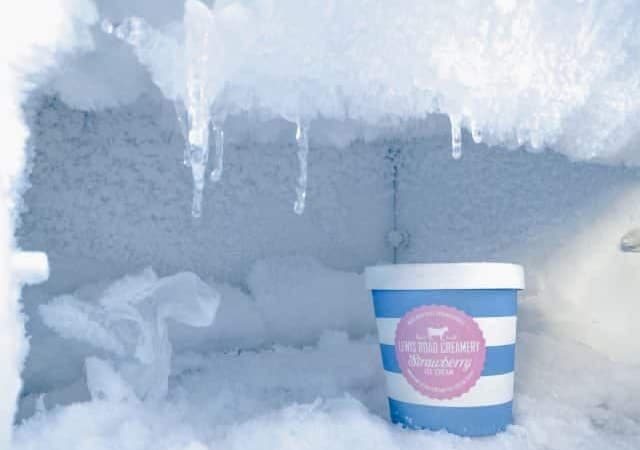 It's that time of year – where having a freezer with some sweet cool treats inside is essential.
Here is a reprint of some freezer maintenance advice so you can keep your's running at it's best.
A little maintenance can go along way to keeping your much-needed appliances working this summer.
1. Clean the interior twice a year. Remove all the food into a cooler. Wipe the walls and shelves with soapy water. Rinse and dry. Clean the door seal by wrapping a credit card with a wet cloth and glide it through the grooves. Add a new box of baking soda to a shelf as you are replacing your frozen food.
2. However, you should vacuum the condenser coils once a year. Move the freezer to get to back coils or snap off front grill if your condenser is in the front. You only need one inch of space between the wall and your freezer for air flow.
3. Maintain the proper temperature. Zero degrees is ideal. Therefore, to help maintain efficiency keep your freezer stocked, but not completely with popsicles!
A little maintenance can go along way to keeping your much-needed appliances working this summer.
Click To Tweet
Here is some more advice from theKitchn.com and RealSimple.com.
About Janet
Janet Schiesl is the owner of Basic Organization. She is a Certified Professional Organizer, and a contributor of the book Get Organized Today. Basic Organization is a highly rated organizing services company in Northern Virginia. Since 2005, Janet had been using her experience as a space planner to challenge her clients to look differently at the areas of a home. Recognized as the 2016 Washington DC Area Organizer of the Year by NAPO, the National Association of Productivity and Organizing Professionals where she served as president. Janet specializes in managing large organizing projects and working one-on-one with clients who need help organizing their home or office. Contact Janet at 571-265-1303 or click to schedule a discovery call to find out what Janet and her team can organize for you!