10 Ways to an Organized Bathroom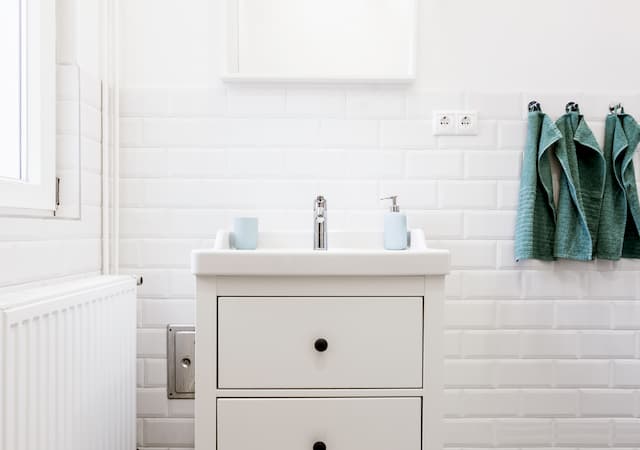 I like to store as little as possible on the bathroom counter and as much as possible under the sink. Organizers will add more storage space to your bathroom and lend a hand in tidying up the room. Check out these 10 ways to an Organized bathroom.
1. Utilize the cabinet door.
Hang hair dryers, curling irons and tuck bath supplies into a cabinet drawer organizer.  Make sure you are using sturdy storage solutions that can withstand daily use.
2. Store toilet paper in a basket.
This is great for guests and you to be able to just grab a new roll when necessary. This will save storage space in the linen closet and under the sink which can then be used for less frequently-used items.
3. Hang bottles of cleaning products.
A simple tension rod can be used to hang cleaning supplies so they are easier to grab. This is also a great spot to hang cleaning gloves to dry after use.
4. Use trays to corral small items.
Create a home for your nail polishes, make up brushes, Q-tips and cotton balls. Trays make everything look neater.
5. Hang a shower caddy for extra storage.
Don't over-clutter the shower, instead contain the items you use daily in your shower, and corral them in a caddy.
6. Use a lazy-Susan to make things easier to reach.
You can store a multitude of items on them, and still reach everything easily.
7. Create a First Aid kit.
You don't think about a first aid kit until you need it, so make it stand out by clearly labeling it as first aid. A simple red cross on top should do the job, and make sure to re-stock 2-3 times a year. This is one of those items you don't think about too often but it vitality important.
8. Store your hair dryer in a caddy.
Your hair dryer will never again get in the way in the bathroom if you install a simple hair dryer caddy on the inside door of your bathroom cabinet. You could also try a hook to hang it in place on the wall.
9. Use a bathroom bucket.
If storage space is lacking and you still have items that need to a home in the bathroom, try a bucket. Something cute will not look so utilitarian and maybe even make a fashion statement. There's something so simple about grouping everything you need together into a bucket, and it makes things so much easier to put away when you're done using them.
10. Install roll out storage under the sink.
A roll-out bin will allow you to more easily use and access the storage space in the back of your under-sink cabinet.
Here's one of my favorite blog posts about bathroom decluttering from Sabrina's Organizing.
Check out these additional blog posts:
Crazy Easy Organizing Projects